Since reading Protect Yourself with your Snubnose Revolver by Grant Cunningham, I've been convinced I need to try revolver stocks sans finger grooves. Unfortunately, finding stocks for a square butt revolver isn't the easiest task. After my dismal experience with the Pachmayr Presentation, I decided to just go with something I had a bit more confidence in: the VZ Grips L-Frame Tactical Diamonds.
VZ Grips L-Frame Tactical Diamonds
I've been running Tactical Diamonds on my 640 Pro for almost as long as I've had the gun. I have been nothing but impressed with them. Because of this I had little doubt I would like the L-Frame version. Like the stocks on my J-Frame, the L-Frame Tactical Diamonds are sharply checkered G-10. The stocks are well-manufactured with a very tight fit to the grip frame.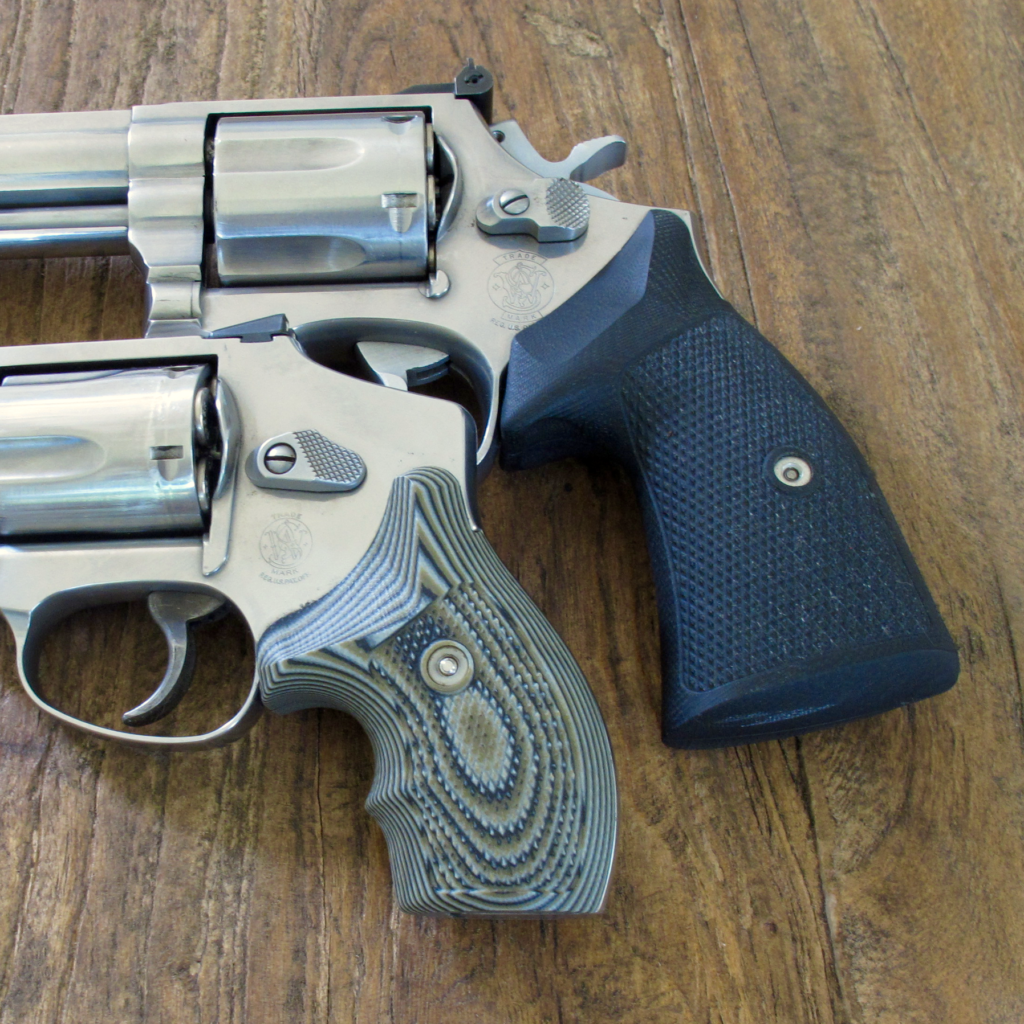 Installing the grips is a snap. First, remove your old grips. Next, press-fit the VZs into place. This can be ever so slightly tricky because of the extremely tight grip-to-frame fit, but is a huge benefit in actual use. Finally, tighten up the screw and you're good to go.
If you have very large hands you might not like these grips, but I love them. With the open backstrap and fairly narrow "neck" I would consider these grips on the small side. This works out well for me with my somewhat small hands. I am able to get a very strong grip on the revolver, and the area behind the trigger guard is filled in nicely.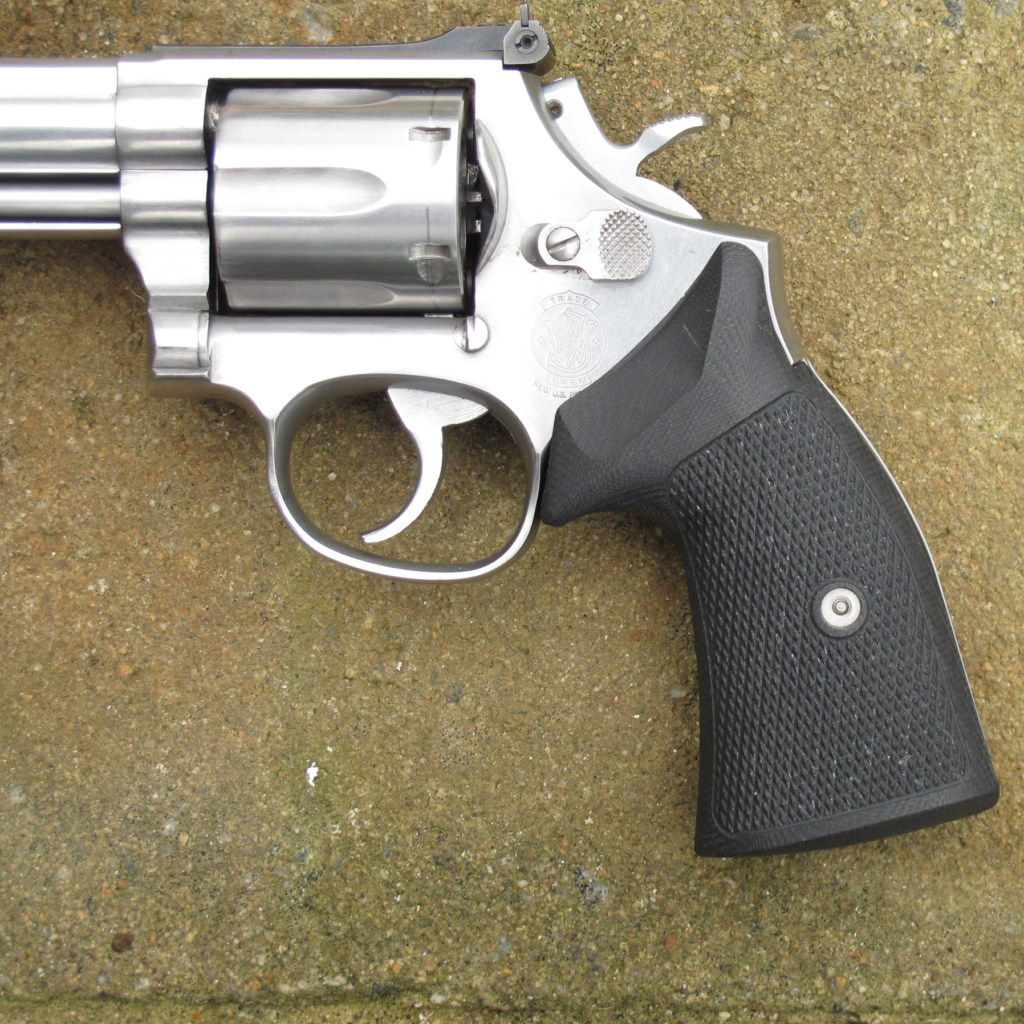 The left panel of the L-Frame Tactical Diamonds is well relieved. Since installing this grip I've used loaders from 5-Star Firearms, Jetloader, Safariland COMP II, S.L. Variant, and have not had an issue with the stocks interfering (I have had an issue with the Speed Beez loader, however).
There are two aesthetic features of the L-Frame Tactical Diamonds that I really like. The first is the raked bottom edge. This angled look makes the gun appear just a little more interesting to my eye. Aside from good looks, I think there is a functional purpose to this cut. It allows the front of the grip to accomodate even large hands, while keeping the butt as short as possible for concealment.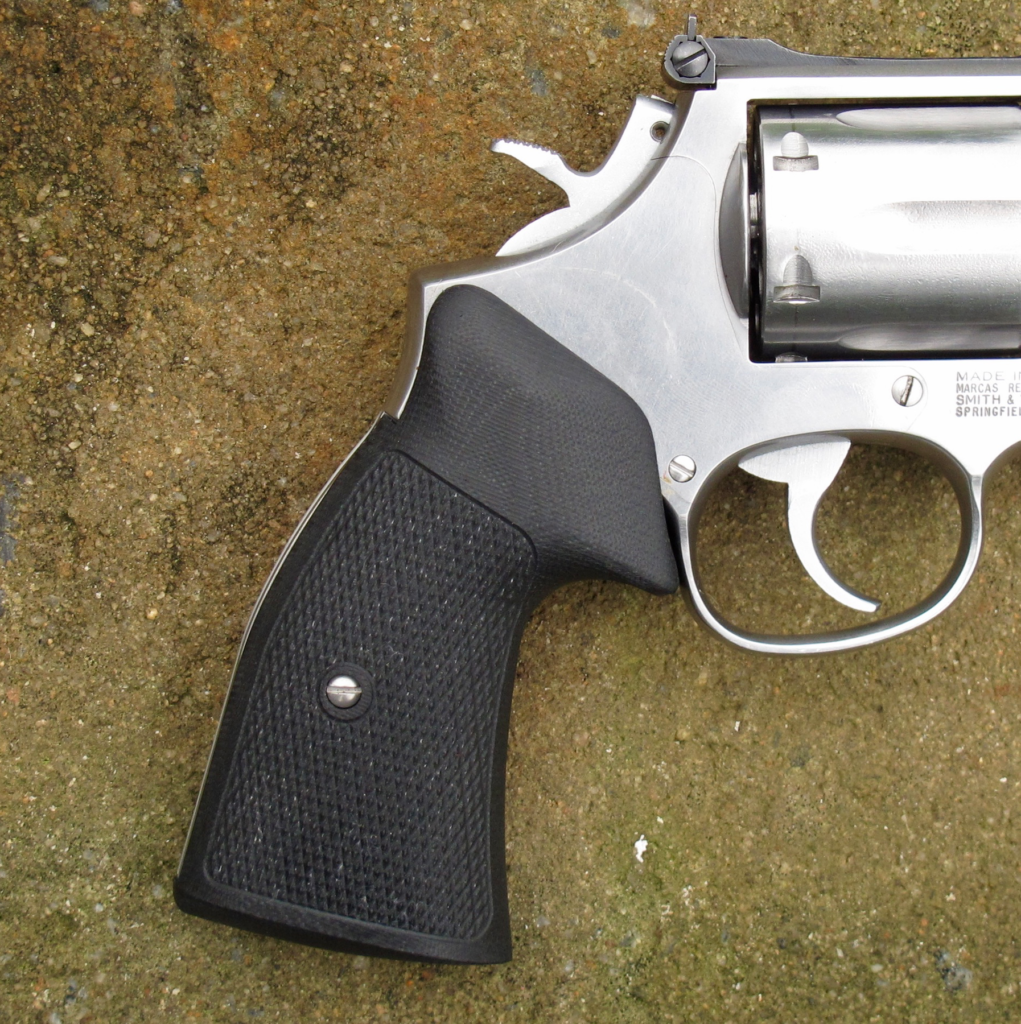 The second aesthetic feature I like is the cut of the right-side panel. Unlike the Hogue monogrip I've been running for years, this panel doesn't cover half of the sideplate. It essentially mirrors the cut of the left panel.
Modification
Though these stocks were pretty much good-to-go out of the box, I did make one very minor modification. The checkering is extremely sharp. Generally I like this because it provides a rock-solid purchase and is still comfortable against the skin. However, on the L-Frame Tactical Diamonds, my middle finger was getting chewed up. With two-hand grip the first pad of my middle finger was getting pressed mercilessly into the checkering.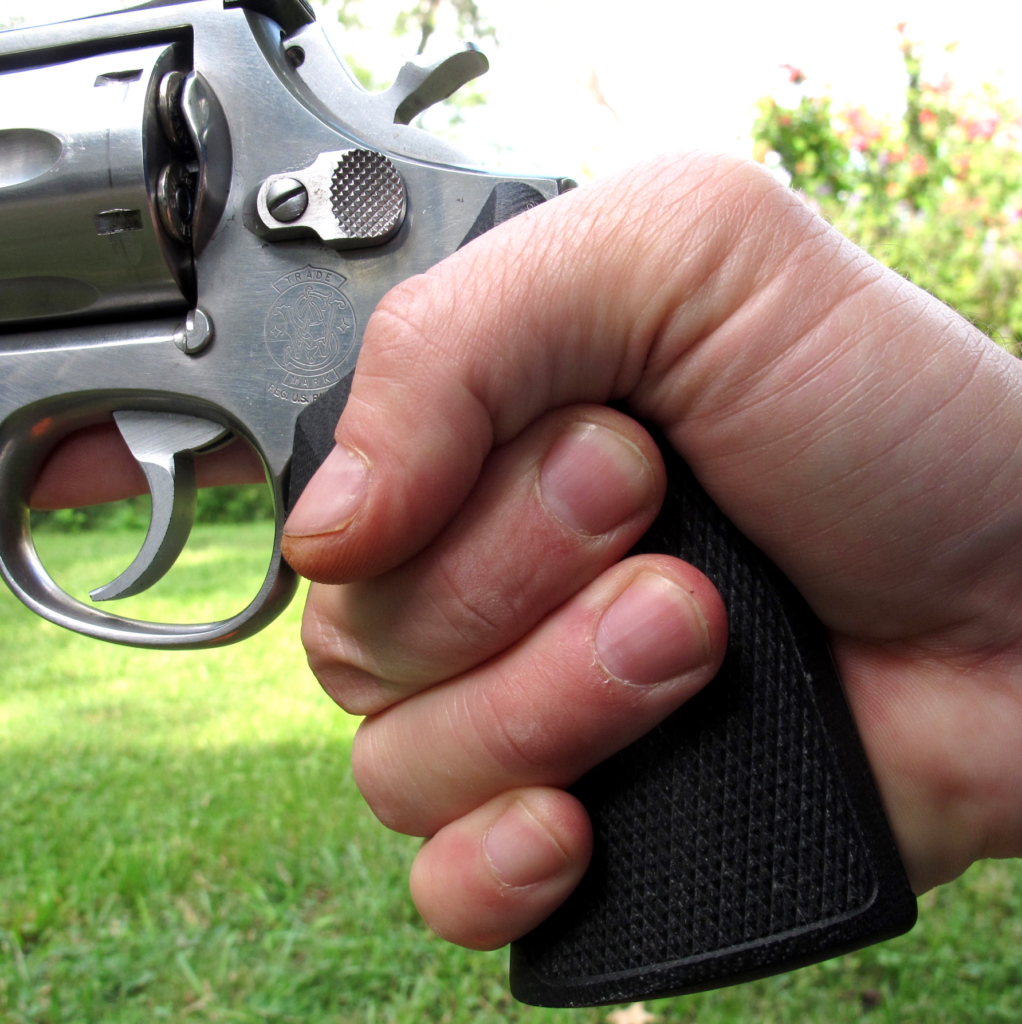 This was a quick and simple fix. I just found some sandpaper and lightly sanded the offending area. If you find the entire grip too sharp you could do this to all of the checkered areas. Be warned: it doesn't take much sanding to soften the sharp points.
The Bottom Line
After my first extended range session with the VZs installed, I immediately wished I had gotten a set of these grips a long time ago. The L-Frame Tactical Diamonds are good-looking, rugged, and offer an extremely good grip. Based on how well my J-Frame Tactical Diamonds are holding up, these will doubtlessly serve me for a long time to come. I might've failed to mentioned it elswhere, but they also fit K-Frames and are available for both square and round-butt models. If you don't like the diamonds, they come in a number of colors.
Liked it? Support RevolverGuy on Patreon!