Like most of you, I anxiously await Mike's posts. He writes better than me, knows more than I do, and despite being an officer (forgive me, John Basilone) is smarter than me. So naturally I look forward to seeing what comes out of his head and onto the screen. And, like most of you I really enjoyed his recent article on light training loads. But it got me thinking…
Hey, guys – sorry I got this out late today. I was at Greg's outstanding Snubby Revolver class and apparently the WordPress scheduling function didn't work for me. Stay tuned for a full review of the course!
~JC
Though we generally keep things pretty upbeat around here, there are any number of trials and tribulations associated with being a RevolverGuy. It ain't easy being a round-gun shooter in a world that is optimized for the square-gun and its followers. It's especially difficulty to those of us who try to carry wheelguns as a primary self-defense sidearm. I'm going to talk about a few of these problems today.
Bear with me – it's might seem like I'm bashing revolvers. I like to add a touch of sanity every now and then, and I'd prefer people become RevolverGuys with eyes wide open.
Light Training Loads
As Mike mentioned last week, there is a world of difference between the "white box" loads most of us shoot at the range, and the hot stuff a lot of RevolverGuys thumb into their cylinders before heading home. This difference can be substantial, and the smaller revolver, the greater these graduations become. In the ultra-light guns, stepping up from a 148-grain to a mere "standard" .38 can be noticeable. The jump from standard .38s to .38 +P – and from anything at all to even mild .357 Magnums – can be amply felt in most revolvers that are appropriate for concealed carry.
I contend that this is mostly a revolver issue. As an example: as you guys will see shortly, I have fired over 5,000 rounds of 9mm through a single gun this year. The vast majority of that has been 124-grain ball. My carry load is a 124-grain +P JHP. Is there a difference in recoil? Yes, however… Even with the cheapest 124-grain ball I can find (usually Fiocchi and S&B) this difference is very small. If you loaded my gun and handed it to me, I'd have a hard time telling you what ammo you'd put in there just by firing it.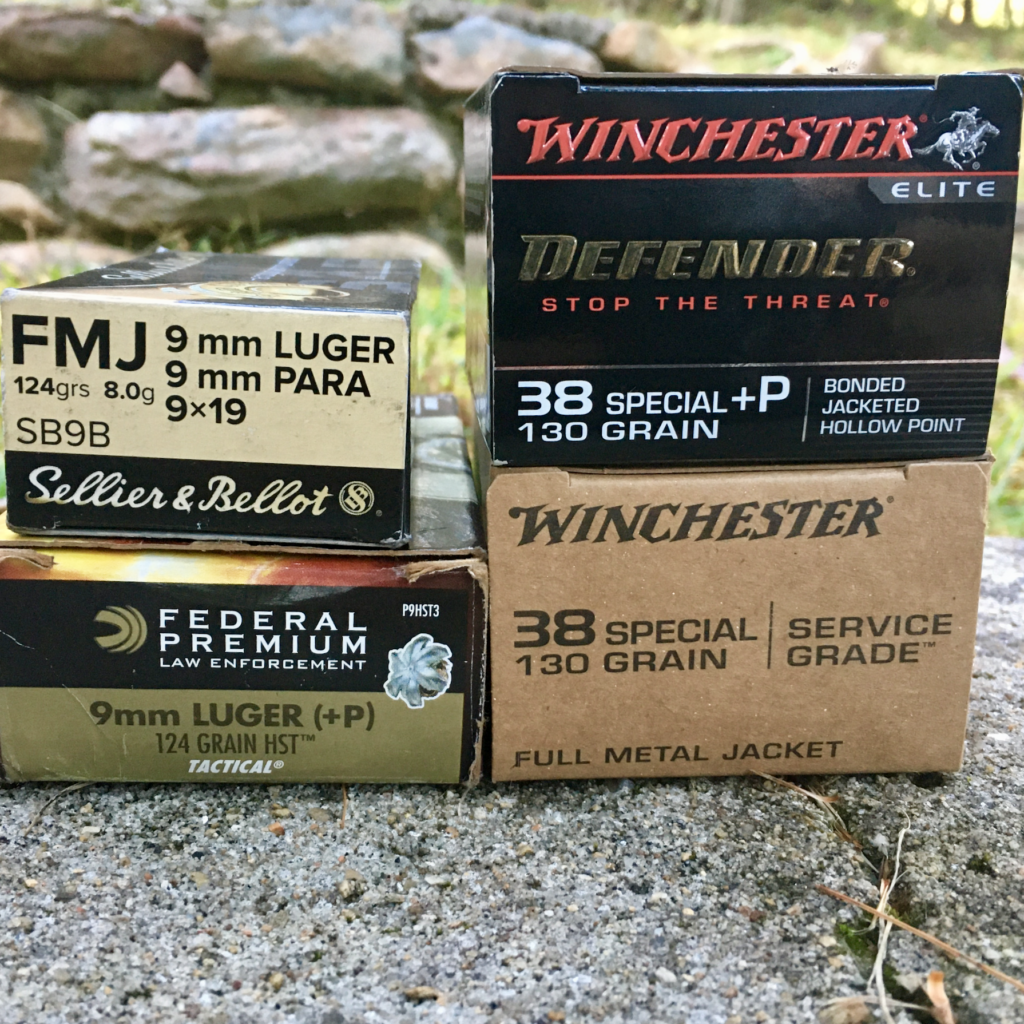 Now, I'm not saying there's zero difference between mild and hot 9mm loads. I'm also not saying that 9mm is a universally "light shooter." In some guns it can be downright punishing to shoot.  What I am saying is that if you're comfortable with 9mm ball, you're probably going to be comfortable with any number of modern defensive hollowpoints.
Sight Regulation
Then there's that pesky issue of sight regulation that Mike wrote about not too long ago. This most commonly rears its head with fixed-sight revolvers. Unfortunately, fixed-sighted revolvers are extremely common. As you guys know, I've had massive sight regulation issues in my 640 Pro Series. I've also had issues with some carry-sized guns that come from the factory regulated for 158-grain Magnum loads. Some of the readers here have mentioned that their guns are an inch – or two or three – off at single-digit yard lines. Not hitting where you're aiming is a massive frustration and a potentially huge liability.
Anecdotally, this seems to be much less of an issue with semis. The reason(s)? I'm not sure, but I'll take a stab. First, there's the dual-caliber issue. Many of our ".38s" are .357s that we load with .38 Special. The Magnum loads are pushed at higher velocities, so naturally the sight regulation is different.
Perhaps there's also institutional memory. Early .38 Special loads were of the slow, 158-grain persuasion. Are modern .38s still unwittingly manufactured around this bullet weight and its accompanying velocity, despite the fact that the most commonly carried bullets nowadays are in the 110 to 135-grain range? This could also have something to do with the mechanics of how a semi-auto recoils, but I'm not going to delve into that because…honestly, there's not much I could offer.
Now, I'm not going to say that all semi-autos are dead-on out of the box. They aren't. I've had to tinker with sights, but nowhere near the constant, ongoing struggle I've had with revolver sight regulation. With a semi-auto you can pick your ammo based on reliability, followed by bullet performance, and then verify that point-of-impact matches point-of-aim. With revolvers, it seems you have to try a bunch of ammo for POI/POA correlation. . . then pick your favorite load from a significantly narrowed field.
Carry Ammunition
Since I'm riffing on Mike's posts, I might as well stay at it and hit one more: last week's article on wadcutters for carry. The basic premise of the article was that it might be a good idea, at least for some shooters, to eschew the advances in bullet development of the last five or six decades in favor of a friendlier shooter. I don't disagree – in fact I readily agree – but therein lies the compromise.
Over in Semi-Auto-Land almost any bullet, in a duty caliber (9mm/.40/.45), from a reputable manufacturer (Cor-Bon, Federal, Hornady, Remington, Speer, Winchester) within a normal weight-for-caliber, will probably penetrate adequately, expand, retain its weight, do all of this without additional recoil†, and have a pretty enviable track record in actual shootings.
Ammunition Cost
Mike also mentioned this in his article, but revolver ammo is expensive‡! I've written about this before, and it is a massive hidden cost of revolver ownership. The current going price for a case of 1,000 rounds of 9mm is around $170 (I've been buying them from SGAmmo.com). The going price – from the same site – for cheap .38 FMJ is $240/case – a $70 difference! And .357 Magnum? Forget about it! Believe it or not bulk.357 runs higher than the previously "exotic" 10mm and on par with the hipster .357 Sig.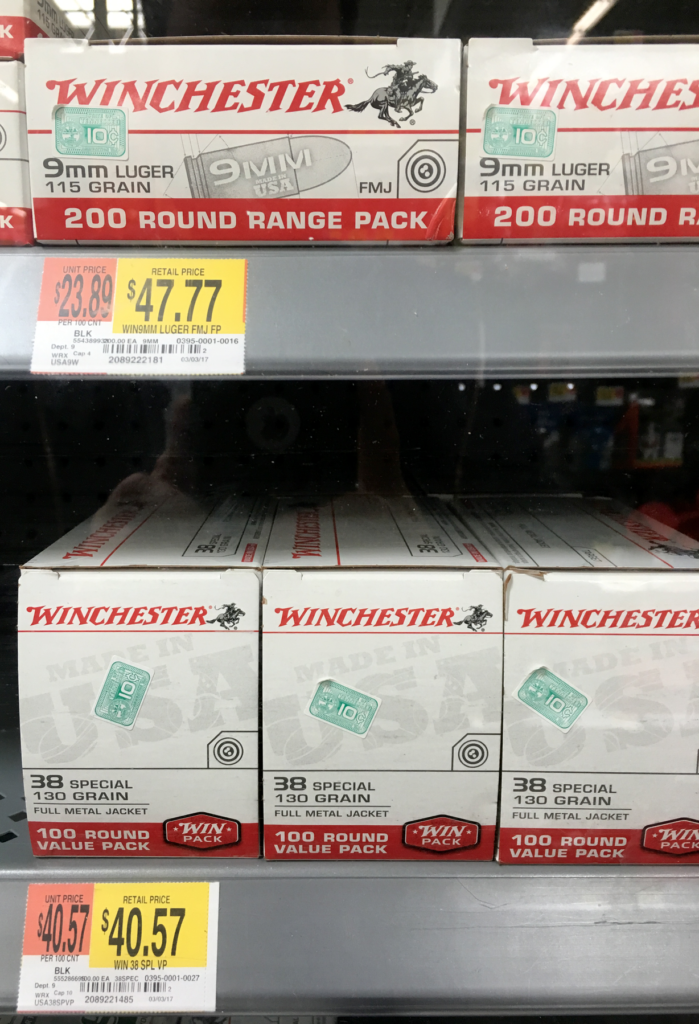 These differentials assume bulk purchases; the retail markup makes this difference even more stark. Individuals who are most cost-sensitive are probably more prone to purchasing ammunition at retail cost, and this has some second- and third-order effects. Namely, that we practice less. When ammunition is more expensive, we – as a group – tend to use less of it. This impacts competence (though maybe not confidence) with a gun that requires more practice to master.
To be fair, there are also hidden costs with running a bottom feeder. Things like additional magazines can drive the cost up considerably. Averaged over a long term of ownership these costs end up being absorbed, but upfront they're probably hit harder than a few boxes of ammo.
Reloading Devices
This is probably the one that bugs me more than any other. Depending on what revolver you buy, you may or may not be able to support it with your speedloader of choice. You might have to buy a speedloader made for another gun and be careful how you use it. Hell, there may not be a speedloader that works for it at all. Despite the recent proliferation of new reloading strip designs, similar energy hasn't been expended making an awesome, inline, universal speedloader.
For that matter, there is the whole speedloader situation in general. The S.L. Variant is pretty much the undisputed king of the hill. However, I don't think these have been available since well before I began this blog. Some manufacturers have introduced new speedloaders to the market, but they've all been a new takes on older, inferior designs. The JetLoader comes pretty close, but it only fits a limited range of guns, and has some problems of its own.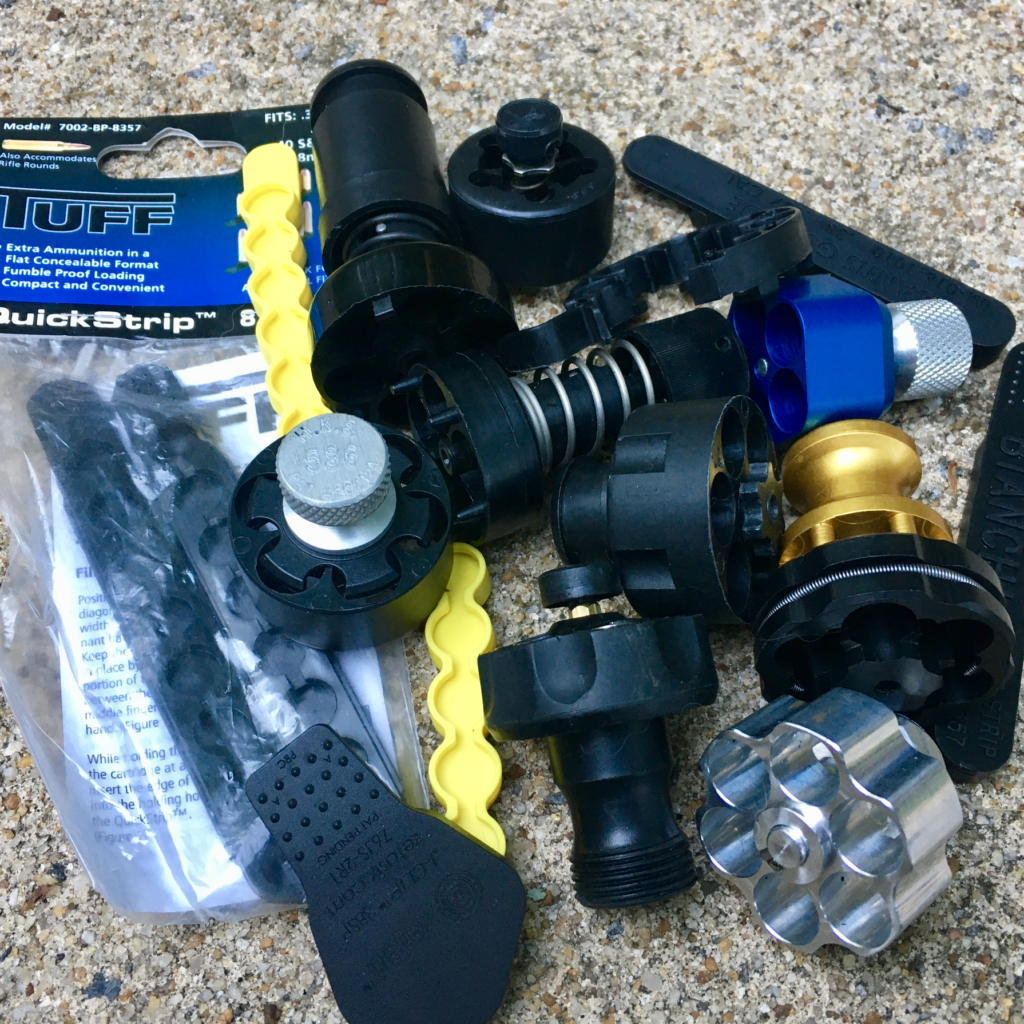 Ultimately, I guess that's cool; statistics say we aren't likely to reload in a fight. Even my perceptions of reloads are shifting in light of a lot of the research I've been doing into the various loading devices on the market. Still, something about having to accept a second-best solution because my revolver is a less-popular make/model rankles me. I absolutely love the ergonomics and accuracy of my Colt King Cobra. On the other hand, I loathe having to accept substitute speedloaders for it.
Carry Gear
There's also the issue of carry gear. Since we just talked about reloading devices, let's talk about carrying them. If I want to carry one in the best way possible – i.e. in a place that is readily accessible, and reliably there enough to index under stress – I need a pouch. I like the Second Six/Split Six design but guess what?
It doesn't work with the S.L. Variant, Jetloader, or Speed Beez. That's right, your favorite speedloader might not work with your favorite pouch. And while we're at it, your favorite pouch might not work with your choice of the three major reloading styles. Fortunately for me, I've kind of solved the pouch equation with the Jox Loader Pouch. Assuming, of course, I'm working with a gun for which a speedloader is available. The Jox won't work for all of you, and some will be left casting about in search of some other carry methodology.
The same goes for holsters. You want to carry a 1911, Glock, or M&P9? The world is your oyster, man – you can get every holster under the sun with options for RMRs, lights, lasers, light/lasers, bayonets, pasta-making attachments, and anything else you'd like to attach to your gun. You want to carry a Kimber K6S or a Ruger Speed Six? Ha!
You can probably find a holster for just about anything out there, and you can have it any way you want it as long as it's OWB. Unfortunately, OWB doesn't work for me when I'm "off the farm." I'm just too skinny to hide much of anything outside the belt. Finding an IWB for a gun that hasn't made its way into the mainstream – like the Colt King Cobra – is a chore. Looking for a high-quality, Kydex, AIWB rig for the Colt King Cobra is a fool's errand. Even holsters for the older (and if we're being honest, probably more popular) Kimber K6S are hard to find in a whole lot of variety.
Revolvers themselves
You thought we were almost through making compromises didn't you? Not quite; now we come to guns, and picking one for carry. There are a lot more options now than there used to be, but there's plenty of compromises to be made! I'm assuming we're talking about a primary carry piece here – choosing and outfitting a BUG is easily doable. Without calling names and pointing fingers, let's look at the options.
You could go with the big kid on the block, the big, blue one. They probably have the biggest selection and make the most revolvers. Unfortunately they've "fixed" some things that weren't broke, and ignored some things that could probably use an update. Example of the former: the unsightly hole on the side of almost all of their revolvers (The one that isn't there on their semis. Just sayin'.). Example of the latter: snubby revolvers with a coil-spring design that hasn't changed in decades, causing them to have ridiculously heavy triggers. And by "hasn't changed" I mean not by big blue. Other companies have figured it out.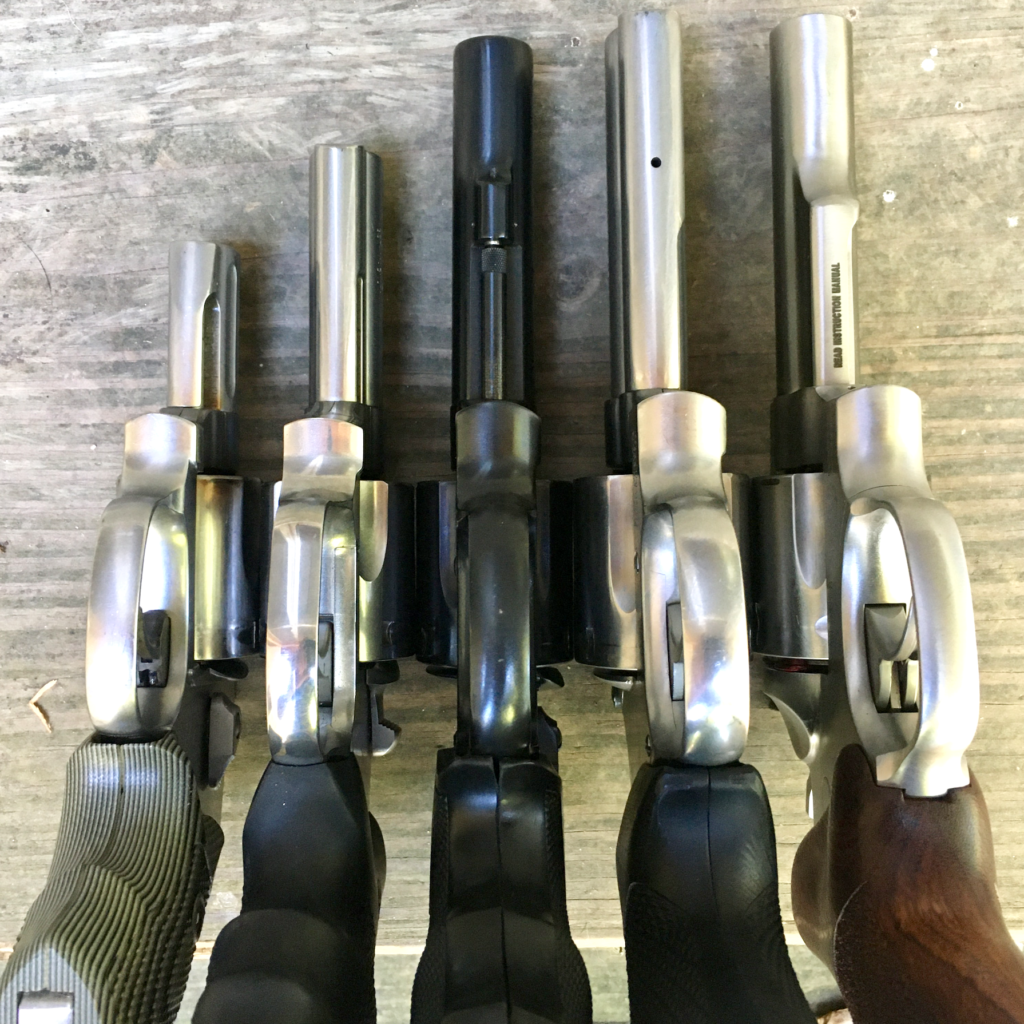 Alternatively, you could go with the new kid on the block. It carries an extra round without being much bigger – or the same rounds and is quite a bit smaller – depending on where you're coming from.  That one has some problems, too. There's that nagging problem of breaking firing pins that have yet to be redesigned, and we're deep into "Few Holsters, Fewer Loaders" territory.
Then there's the new, new kid on the block, and the one that is my personal struggle. I believe one of their revolvers is the perfect size. It shoots exceptionally well. No one else makes a six-shot gun in that size, and it carries well. I mean, it probably would carry well if I could find an AIWB holster for it. Oh, and a reloader that fit it well. And, to tell the truth, it hasn't been on the market that long and is rumored to have an inherently fragile action, and I've already encountered one minor issue with it.
What's a RevolverGuy to do?
So…
At this point you may be asking, why bother with revolvers at all? There are some very good reasons.
Revolvers are perhaps the most appropriate choice for some users. For very low-skilled users, they are probably one of – if not THE – safest option. In the hands of very skilled users they can be highly effective. In this fifteen-minute YouTube video, Caleb Giddings describes the revolver's "'U'-shaped Utility Curve" far better than I ever could in writing. He describes why revolvers can be an excellent choice for beginners and for the very skilled. I've scratched the surface of this myself, but trust me – watch the video.
Revolvers also have some other very niche use-cases. Small revolvers are excellent in the "hideout" or deep concealment roles. They work magnificently as backup guns that may be subject to neglect. Revolvers are also popular in the backup role because – lacking a slide – they work well in very close contact.
Perhaps most importantly to me personally, there are millions of revolvers out there. Though it could happen, I don't fancy myself doing a battlefield recovery anytime soon. However, as someone who aspires to be a well-rounded shooter, I'd be remiss if I didn't learn the ubiquitous revolver. Being comfortable with wheel guns lets me help my less-skilled friends and handle revolvers safely. In fact, I think everyone who is serious about firearms should be proficient with revolvers.
The Bottom Line
Again, I know this probably rings to some of you as revolver bashing. But consider this: none of what I said is emotionally driven. It's just purely logical. To be honest, most of it has almost nothing to do with the revolvers themselves, but with the lack of support for them (step it up, support industry!). There are a lot of frustrations inherent in being a dedicated, 100% RevolverGuy or RevolverGal. And to be honest, we make a lot of compromises.
And if you want to prove me wrong? Prove me wrong! You can find the elusive combination of revolver, holster, and support gear that works for you. Much more importantly, you can do the long, hard work of negating most of the problems you'll encounter with skill. If you're willing to dry practice, hit the range, dry practice, attend training, dry practice, read books, and dry practice some more, you'll be good to go. Skill is the most important compliment to your revolver. Remember, the man who works with a stick will defeat the man who plays with a sword.
---
Support RevolverGuy
Please consider supporting us on Patreon!

---
†In full fairness, this also speaks to one of the weaknesses of the autoloading pistol. Generally, semi-autos only function within a certain "power envelope," relying on energy produced by the cartridge to cycle the action. This precludes the ability to step up or down the power scale as one likes. Unlike a revolver whose recoil can easily be tailored, shooter to shooter, one must factor a given amount of recoil into the arithmetic of choosing his or her semi-auto handgun.
‡Someone is probably going to mention that reloading one's own ammunition could negate the cost differential (because, well, it has been mentioned before), so let me go ahead and address that. I could reload, and for some people that might be an appropriate answer. There really isn't a great value proposition in reloading for me right now, though. Reloading is inexpensive when it comes to money, but costly when measured in time. Nothing is more precious to me than time, and I simply don't have a surplus of it to spend reloading. It's also not a great answer for extremely price-sensitive shooters for whom the upfront cost may not be achievable. Reloading probably won't work for someone who doesn't have the space to reload or reload safely (you don't want lead all over your dining table), lives in a shared space, etc. There are a lot of reasons reloading IS a good solution, but it's not one-size-fits-all.