Last weekend I was at Greg Ellifritz's "Snubnose Revolvers for CCW/Self-Defense" class in Clarksville, Ohio. I had been looking forward to this class for a long time, and my only disappointment was that Mike couldn't join me. Today's post will be an AAR of this class.
I admit I had some cognitive dissonance last Saturday afternoon. As soon as Greg's class was over I discovered my normal Saturday post had failed to go live. I logged in and updated it, then sat there and read it. The article in question (in case you didn't read it) talked about the struggles of the RevolverGuy. I almost didn't want to post it because after Greg's class I was feeling pretty confident with my revolver skills. Let's look at why.
Full Disclosure: I paid full price for attendance to the course and all related costs, including travel and two nights' lodging. I was not asked to write a review, nor was my review influenced or coordinated in any way with Greg Ellifritz, Active Response Training, or G4 Personal Safety.
Classroom Portion
I didn't realize it going in but this was Greg's first revolver class. Dann at G4 Personal Safety had talked Greg into running a revolver class, and I'm glad he did. G4 is literally in Dann's backyard. Despite being a small range, it was a very nice facility with plenty of shade, well manicured yard-lines, and a perfect amount of space for twelve shooters in two relays.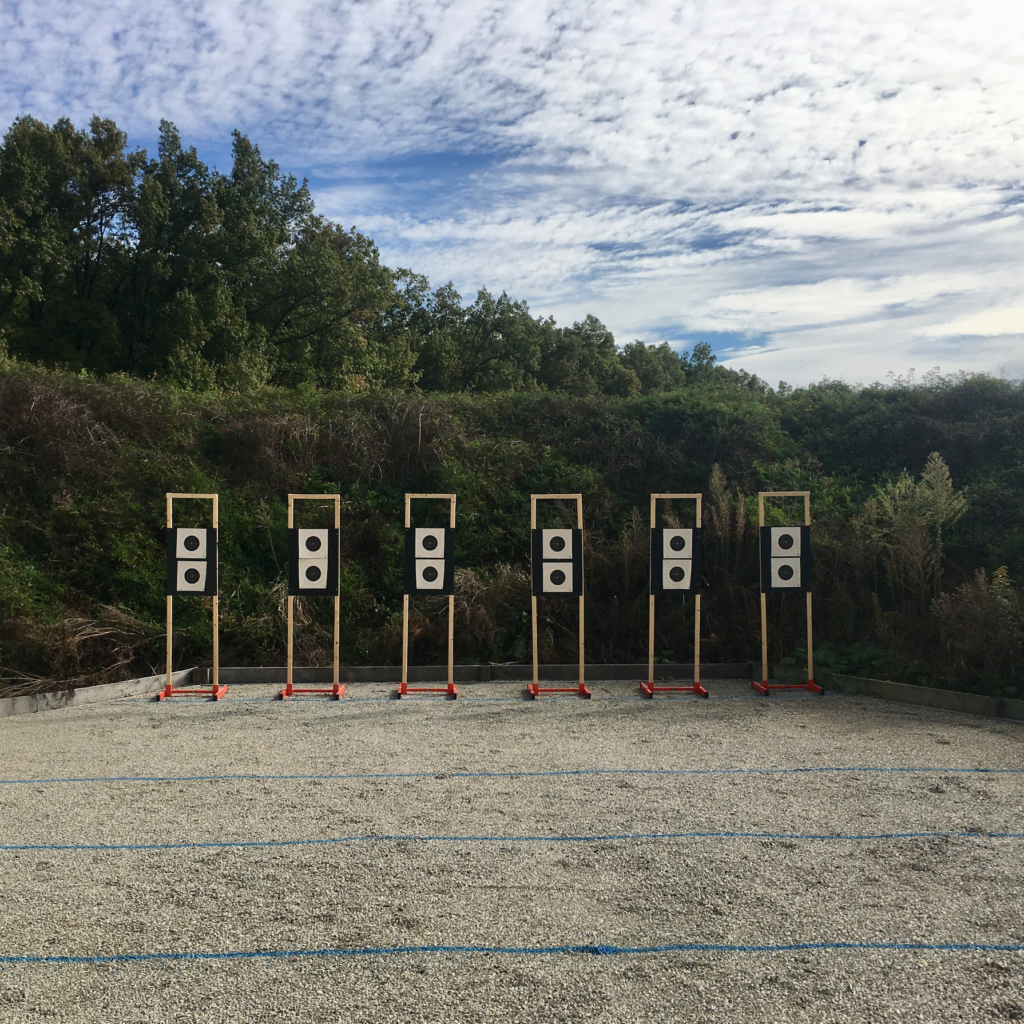 The training day began at 9 AM in the classroom. Greg went over range safety procedures and assigned emergency duties (primary medics, EMS callers, and runners). Greg also pointed out that he runs a hot range (which I like) and explained his expectations around that. With safety covered he talked a bit about the strengths and weaknesses of revolvers, ammunition selection, and after clearing guns on the range, went into "show and tell." Everyone showed the class what gun, holster, and loading devices they were using.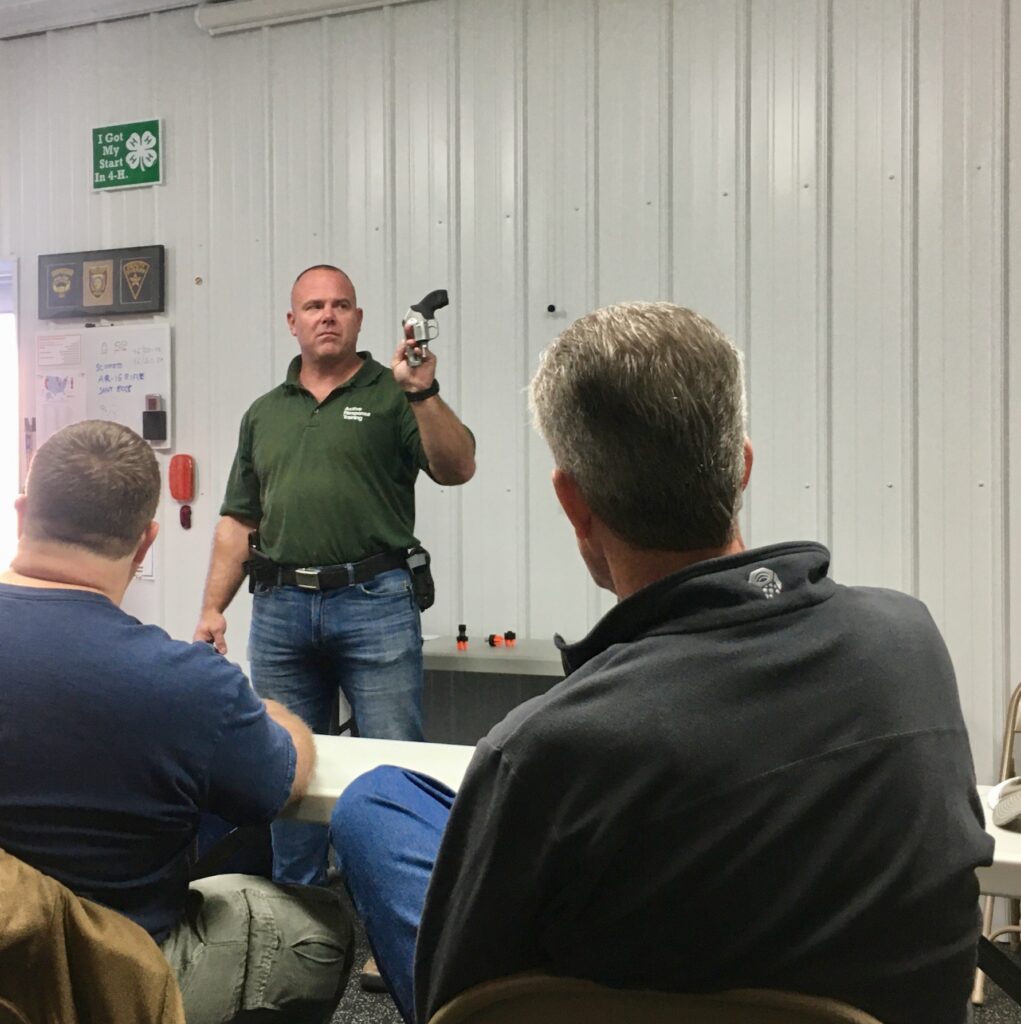 This portion was interesting to me on its face; there was a very diverse group of revolvers in the class. Greg used this as a great opportunity to point out the benefits – and problems – of various guns. I thought we might get to see a live version of "Don't Dig the Rig" but all of the attendees had solid wheelguns (Colt, Kimber, Ruger, and S&W) and quality holsters. Don't worry – I know you guys all want to know what guns were there; I'll cover it toward the end.
The most important thing that came out of the classroom session for me personally: the answer to, "is the snubby enough gun?" Greg answered this in a way that makes me think about revolvers a bit differently. He said that revolvers are a "one bad-guy gun," sufficient for most things civilians are likely to encounter, but ill-equipped for multiple adversaries. It's a simple concept, but a lot for me to wrap my head around. With this sobering thought in mind we headed out to the range.
Range I: Morning
When we got out to the range we divided into two relays. The first exercise was a simple five-shot, slow-fire drill. The first purpose of this drill was to quickly assess everyone's grasp, stance, and marksmanship. This was immediately followed by something I've never seen done before. Greg had us load up a primed case. We dry-fired through the cylinder until we popped the primed case. This was to give everyone some familiarity with what a squib load would sound and feel like in the event one occurred during the training day.
The class was a competent group of shooters and after that initial drill the pace began to pick up. We moved immediately into "worst case scenario" reloading: reloading loose rounds. Greg's technique to grasp the revolver in the left hand, ejector rod between the fingers. Create a cup with the palm for loose rounds, and load them with your right hand. As one would expect from a true revolver class, Greg really dug into the details. One detail I enjoyed was thinking about how to load two rounds if you can only get two in: side-by-side, or opposite from each other in the cylinder?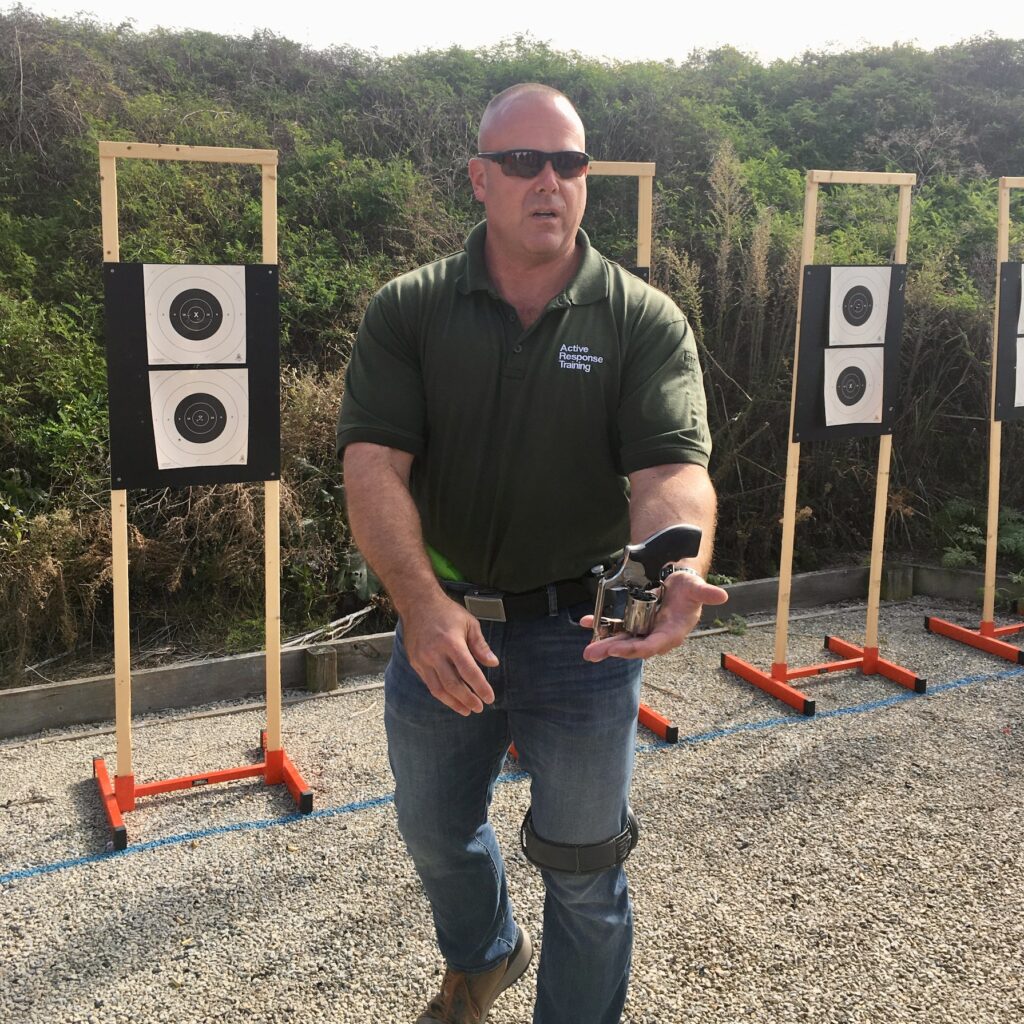 Greg's thought was that putting them opposite each other (in a six-shooter) is ideal. This means if you close the cylinder in the worst case scenario you only have to through two dry clicks before getting a bang. Of course this has to be balanced with other factors; if it's massively faster and more secure to get two in side-by-side, go with that. But it's what I like to see in a revolver class – someone who is seriously thinking about the minutia of running a revolver.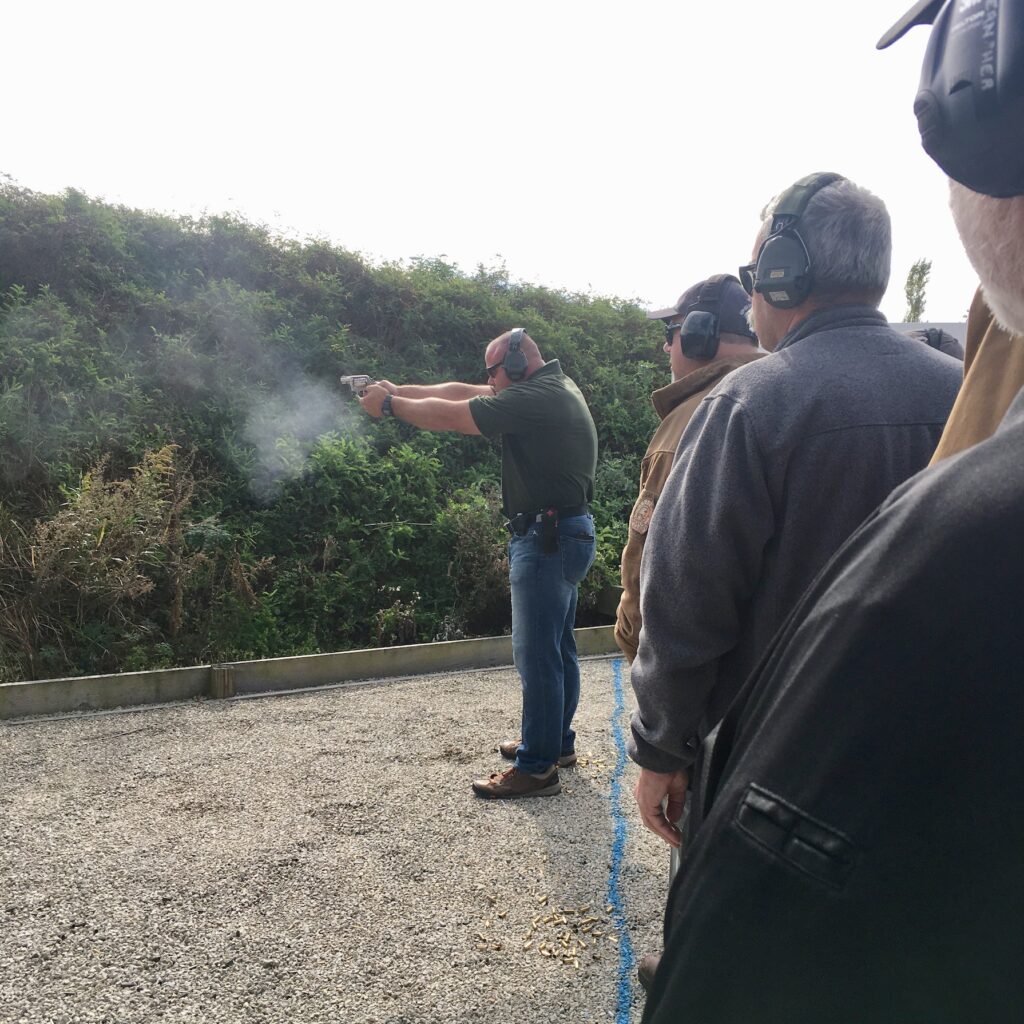 We ran through several iterations of this, and worked on tactical reloads using this technique. Due to this class I may have updated my mental model of the tactical reload, and that may be the subject of a future article.
After loading loose rounds we moved on to reloading with strips. Greg provided his preferred tools and techniques, but also demonstrated the various other ways to setup and utilize reloading strips. We finished up the morning session with a timed, "rolling thunder" event with the relays competing against each other (I'm sad to say the second relay won the day!).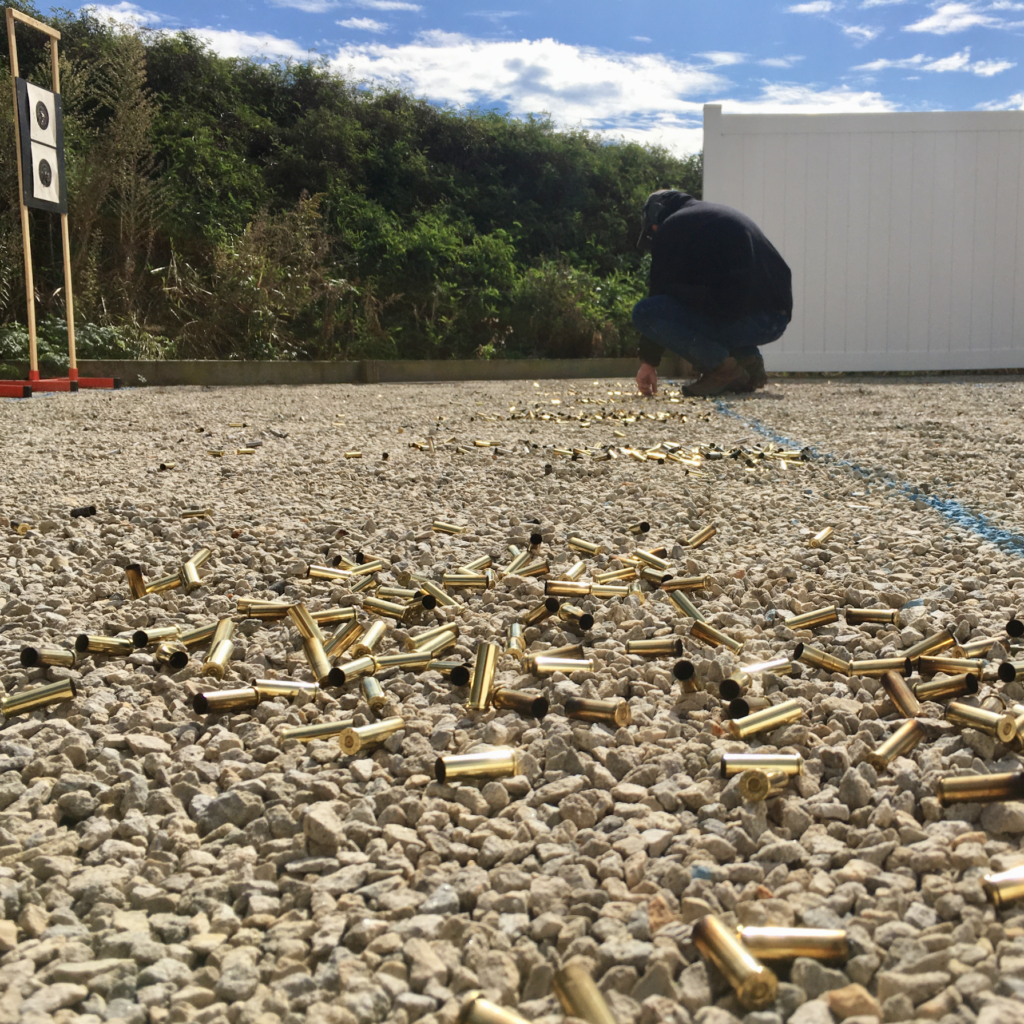 Range II: Afternoon
After the provided lunch (thanks, Dann!) we got back on the range and got into speedloaders. Greg demonstrated the Universal Revolver Reload and went through the pros and cons of various speedloaders. Greg also had a huge box of spare loaders (and holsters) that he made available, including HKSs for almost everything, Jetloaders, and Safariland Comp I/II/IIIs. We worked several iterations of reloading, interspersed with some shooting drills (draw and fire 1, draw and fire 2, etc.).
Greg also had us shoot a really interesting demonstration. At three yards, on three clean targets, we fired three cylinders. The first was fired as slowly as we wanted, with the goal of five (or six) touching holes. The next was fired at a 1 shot/second cadence. The third was fired at 1 shot every half second. The results truly surprised me: most shooters ended up with three groups that were nearly identical in size. Granted, we were close-in, but I know from experience that the results would have been drastically different with autoloaders. This demonstrated a very tangible benefit of revolvers: the ability to fire quickly with a far lower expansion in group size.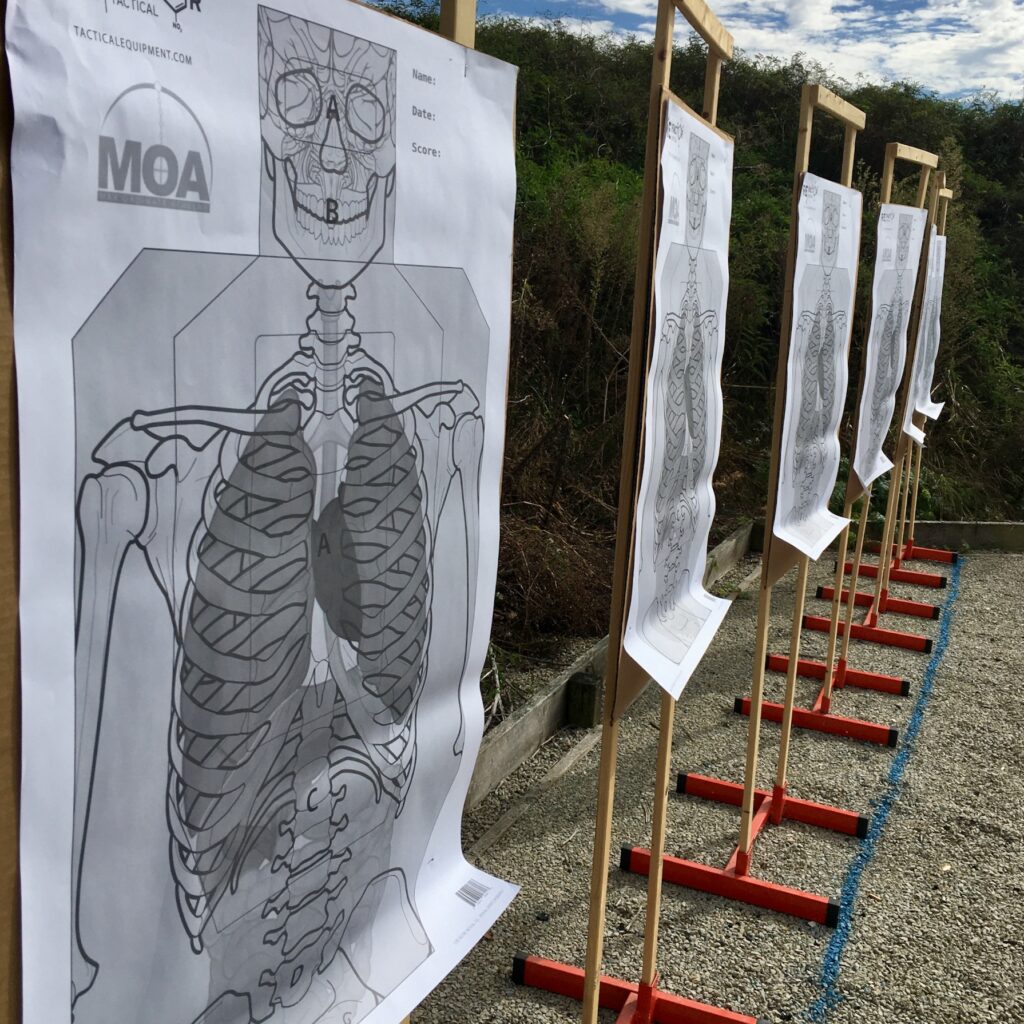 At this point we switched to anatomical targets and jumped into a discussion of the failure drill. Greg made a great point here, and one of the ones that will most influence how I think about revolvers. I'll paraphrase: "if you're shooting an attacker in the chest with a 5-round gun and it's not working, when do you switch to head shots?" I'll admit that since I've switched to a flat gun for day-to-day carry, I haven't given that a ton of thought. The old failure/Mozambique drill (two to the chest, one to the head) is still a worthwhile drill, and probably a worthwhile model for revolver shooters to consider.
Next, we spent quite a bit of time on shooting strong- and weak-hand only. We worked on transferring the gun from one hand to the other. We did a "fam-fire" on shooting from retention, and we shot through coat pockets. Greg provided a bag of thrift-store coats for the purpose. I had one big lesson-learned from this portion: exposed hammers are not ideal for inside-the pocket shooting! The hammer on Greg's Model 12 was caught up in fabric during his demonstration, and I had the exact same results. If you have an exposed hammer and carry a revolver in a coat pocket, be aware of this!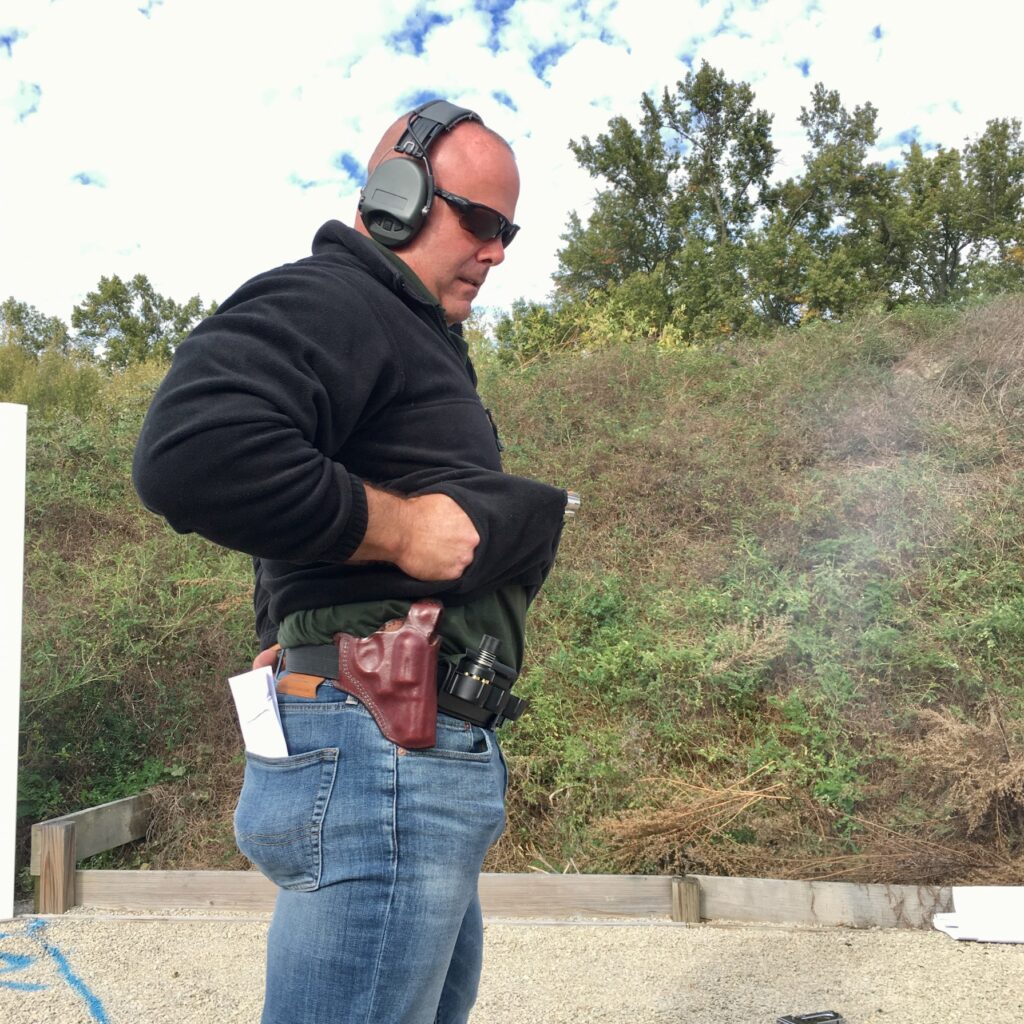 Range III: Tests & Qualifications
The last portion of the formal range training was to run a couple of tests/qualifications. The first was a 10-shot revolver test:
Target: NRA B-8 repair center
Distance: 10 feet
Setup: five rounds in gun with one reload available
Time Limit: 20 seconds
Drill: Begin with revolver in weak hand. On the buzzer fire two rounds WHO. Switch gun to strong hand and fire three rounds SHO. Reload and fire five rounds two-handed.
The drill must be completed in under 20 seconds to count. I managed to acquit myself reasonably well, being a couple seconds under time and scoring a 97 out of 100 points possible. Greg recommends achieving a minimum of 90%.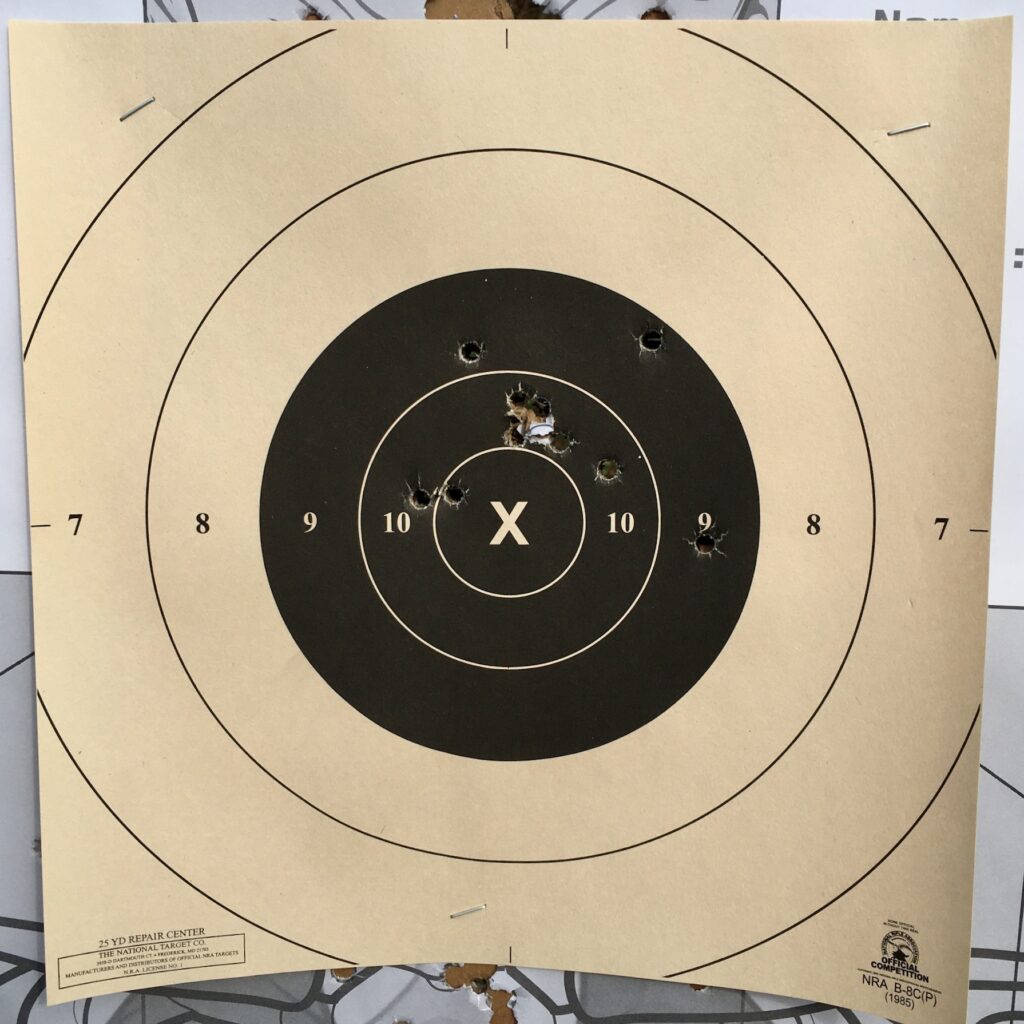 The qualification we fired was the Ohio Peace Officer Training Academy semi-auto pistol qualification. I'm not going to type up the full course of fire, but you can read about it here. I'm happy to report that I and several others scored 25 out of 25 possible points, and the majority of the class cleared the 20-point minimum to pass. Those that didn't pass got within just a couple of points.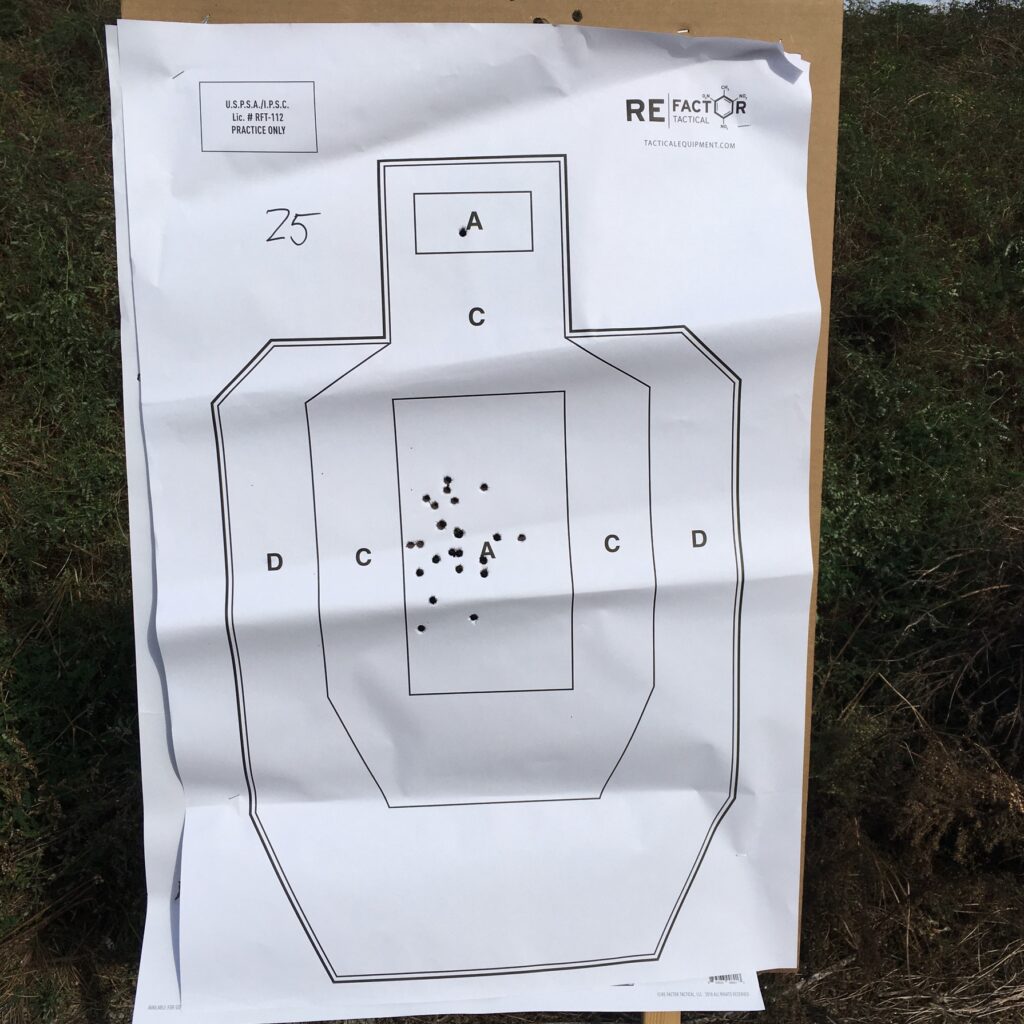 General Thoughts on Instruction
Since this is a review of the class, I want to offer a couple of thoughts on the conduct of the class and the instruction itself. As someone who makes his living teaching adults, and who takes great pride in the same, I'm always interested in watching other instructors.
First, the classroom and range were top notch. At one point Dann said something along the lines of, "I know it's not much" but I don't think anyone could have been more pleased. It was tidy, obviously cared for and well maintained. The range itself was ideal for the group size we had: plenty big, but small enough to keep the group close together. The classroom was clean and squared away and again, and it's obvious Dann takes pride in his facility. I know I bragged about the facility earlier in the review, but I really liked it.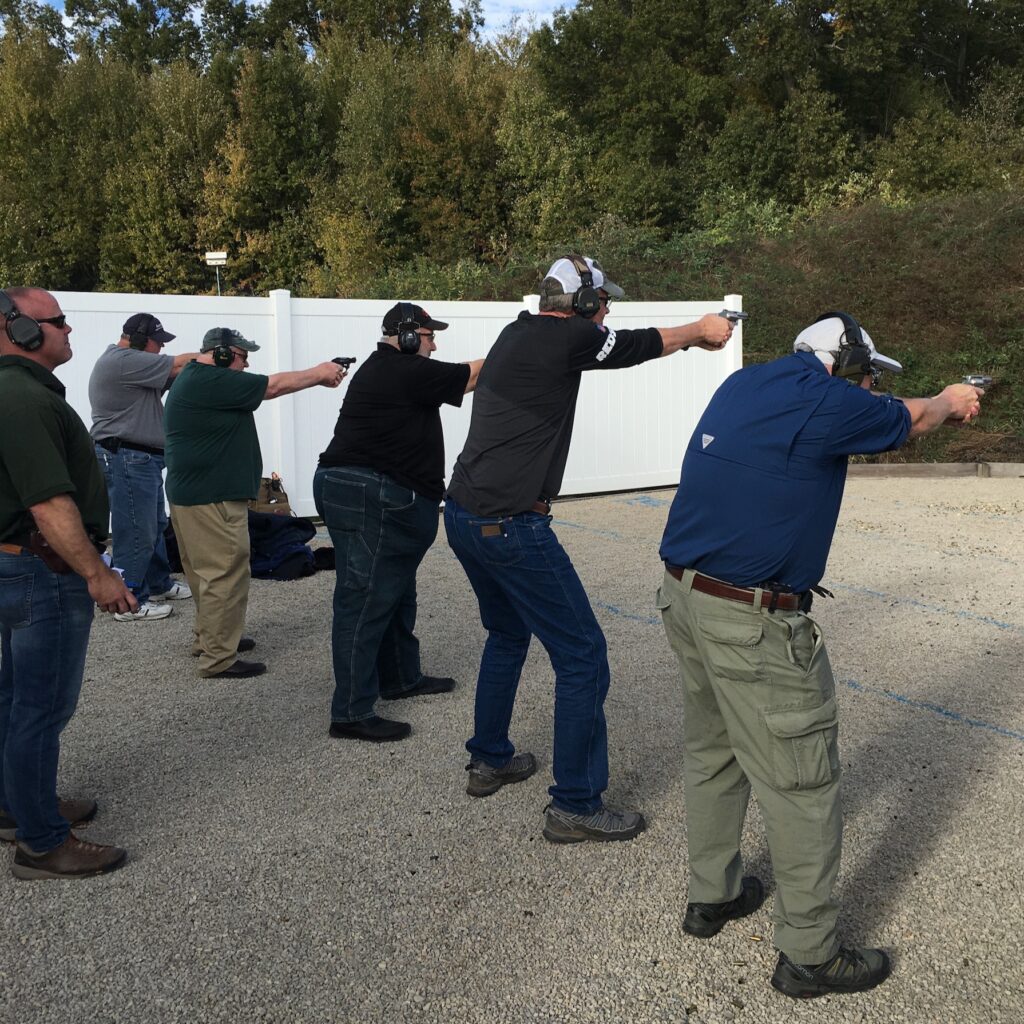 The instruction was fantastic. I like Greg's style. First, he knows his material thoroughly. Just when I would think, "I wonder if he's going to mention…" he would mention it. He also has a strong ability to convey knowledge. It's one thing to know a lot, and quite another to be able to convey it to others. The class was extremely professional. Exercises and drills were demonstrated before students were expected to perform. Questions were answered in-depth, and everything was conducted safely.
One other thing: at the end of the day Greg asked if I was going to write a rewiew. When I indicated that I was he handed me six folded pages containing the day's curriculum and said, "this might help." Not very many instructors are so open with their material. I have also attended Greg's Tactical First Aid and feel completely confident recommending any of his training.
My Class Equipment
I'll speak briefly about the gear I ran in the class. I primarily shot my Colt King Cobra. I shot a couple stages with my 640 Pro Series, but if I'm carrying a revolver these days, it will be the Colt. I carried it in a Kramer OWB, and reloaded from a HKS 10 (K-frame) speedloader and Bianchi/DeSantis strips.
I ended up firing about 250 rounds, and the King Cobra performed really well. In fact, you can probably chalk my OK accuracy up more to the gun than any particular skill on my part. With its smooth trigger, and the weight and large grip of 3-inch, all-steel gun it almost shoots itself. My only issue with the King Cobra was the ejector rod. As I posted on Patreon a couple of weeks ago, I'm starting to experience the stuck ejector rod issue. This issue got successively worse as the class progressed. I suspect that the knurling at the tip is getting steadily more worn down, and more of it is being shoved in to the crane. I think the fix for this (on Greg's recommendation) is to file down the knurling to the same diameter as the ejector rod.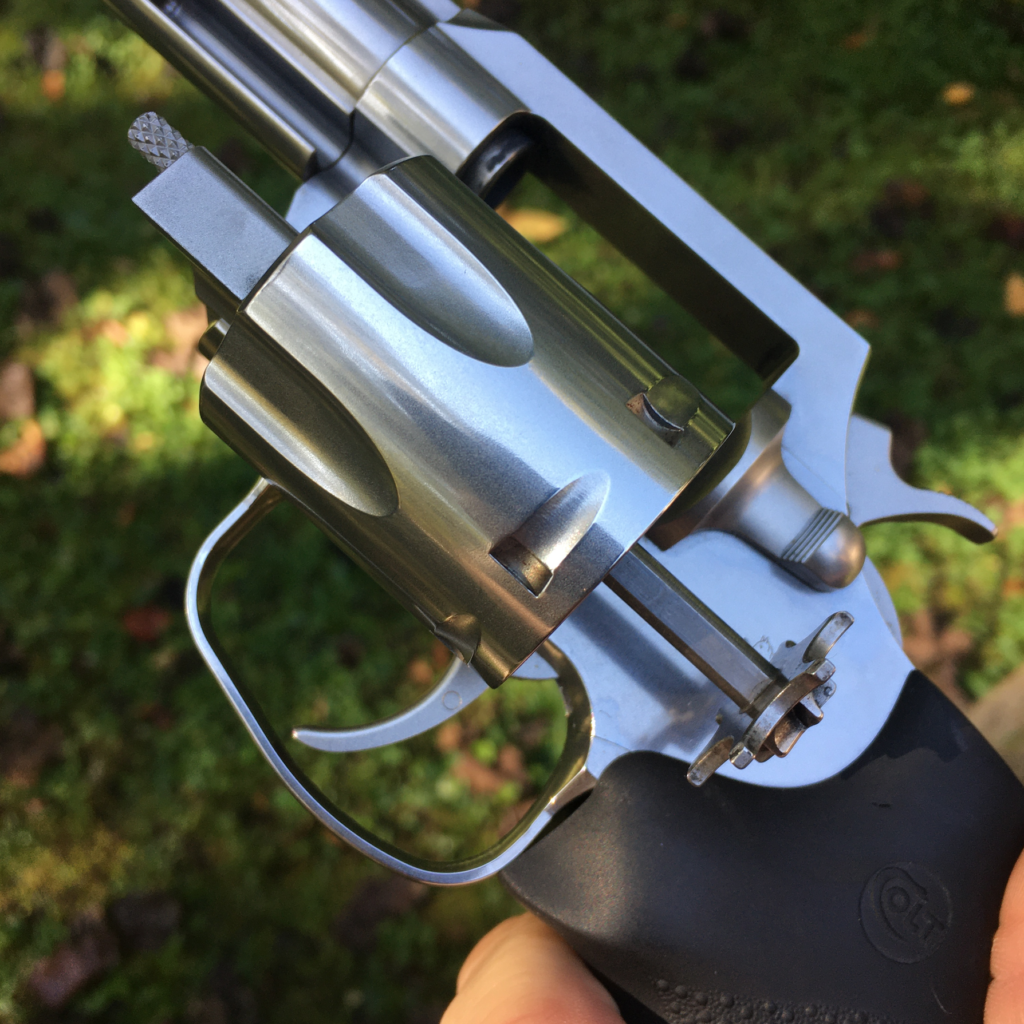 The HKS loader, carried in a DeSantis Second Six, worked very well, too. I would have no issue carrying this combo. As expected I also had no issued with the Bianchi Speed Strips and DeSantis Swift Strips. I brought along my 640 Pro as a backup gun, carried in my Dark Star Gear holster, along with various reloading devices.
Show and Tell: RevolverGuys and Revolvers
Now we get to the best part of the class: the people and their revolvers. I also want to mention the other students. This was an exceptionally good group (and believe me, that is not universally the case). Some fantastic questions were asked, everyone stayed on task and on topic. It was also great to meet a few other RevolverGuys! Neil sat beside me in class and shot beside me on the line… and he brought my 640 Pro's identical twin! Kevin, who shot near me on the line, heaped a ton of praise on RevolverGuy (the blog – not me), as did others. I'm sorry I'm not mentioning everyone's name here, but I had a positive interaction with everyone that attended.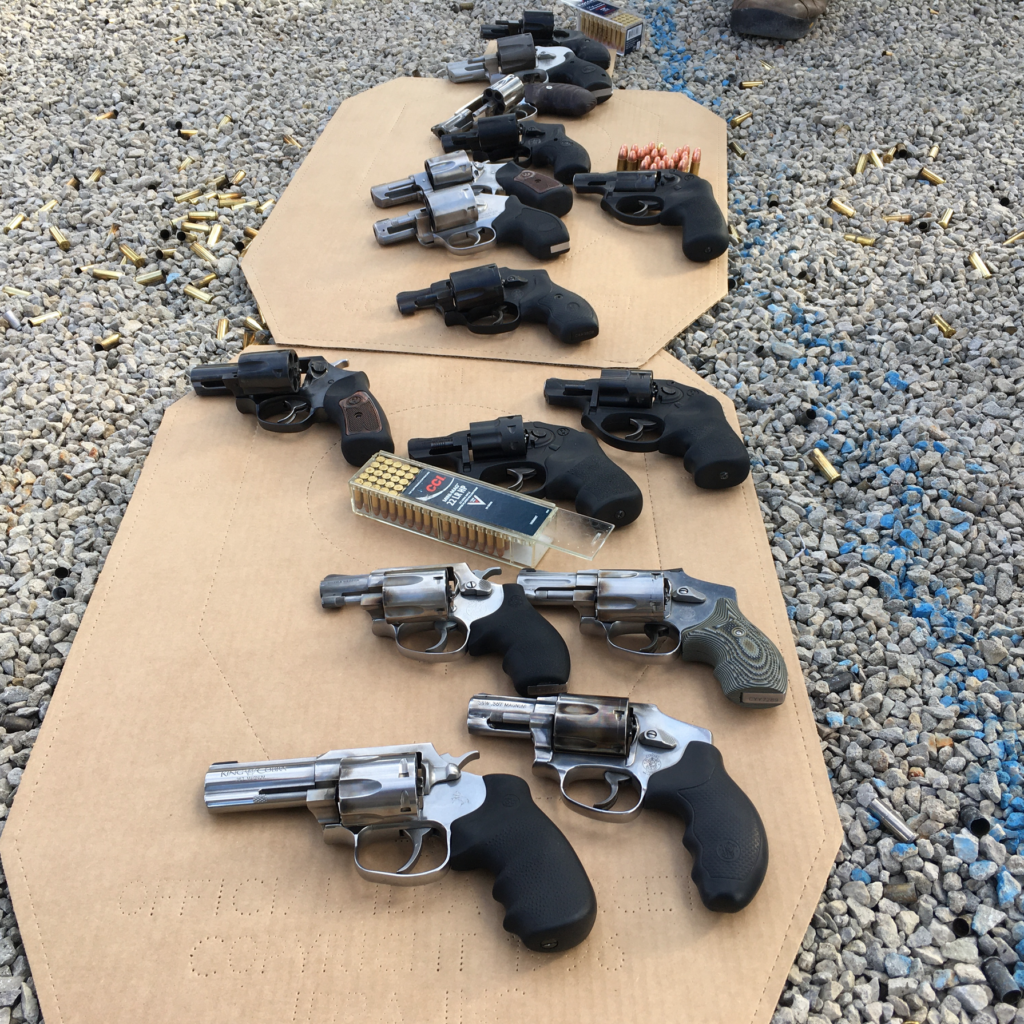 The part you guys are probably waiting to see is the guns, and here we are. I kept a list as people introduced themselves and what they were packing. I also tried to keep track of holsters, but missed a few. I tried to get photos of all the guns, but they were being moved around a bit. Also, there are a few in the photos not listed; at the end of the day people pulled out their backup guns and some toys. Here's the list:
Ruger LCR, .38 +P, Kydex AIWB
S&W Model 60, 2″, DeSantis Nemesis pocket holster
S&W 442, DeSantis Nemesis pocket holster
S&W 640 Pro Series, VZ wraparound "Twister" grips, Muddy River Tactical Kydex holster
S&W 640, .357 Magnum, OWB
S&W 340, Crimson Trace laser grips, OWB
Kimber K6S 2″, Muddy River Tactical AIWB (we're working on getting one of these for review)
Ruger SP101 (blued), S&W Model 36 (backup)
S&W Model 64, 2″
Ruger LCR .38 +P, OWB, Ruger LCR .22 LR
S&W 640 Pro Series, Dark Star Gear AIWB, Ruger LCR 9mm
(Greg) S&W Model 12, OWB leather thumb-break
A couple things about this list jump out at me. First, even though Smith & Wesson dominated the field there was more diversity than I expected. This was a really fun list. Secondly, everyone was shooting a .38, or a .357 with .38s in it (the .22 and 9mm LCRs on the list were brought along as backups). Thirdly, there wasn't a low-end revolver in the bunch; everyone had a top-tier manufacturer's logo on their belt. Fourth, there was a lot more Kydex and a lot more AIWB-carry than I expected.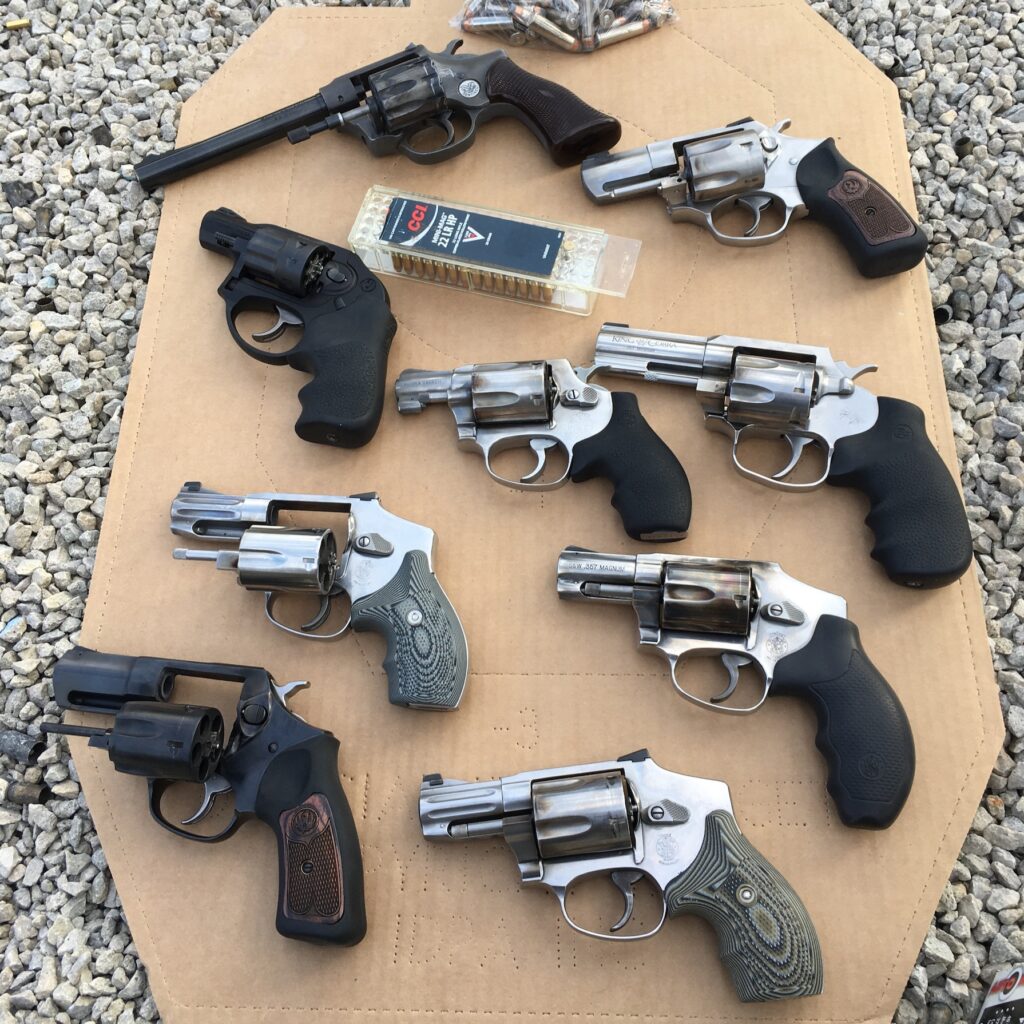 Finally, there were a lot of 640 Pro Series guns: three if you count mine. That's a lot considering I've never encountered another one in the wild. I mentioned Neil's 640 Pro, and he was gracious enough to share that he'd purchased it on the recommendations of Chris Baker and RevolverGuy. That was a pretty powerful reminder – and one that I don't get every day – to keep our standards high here.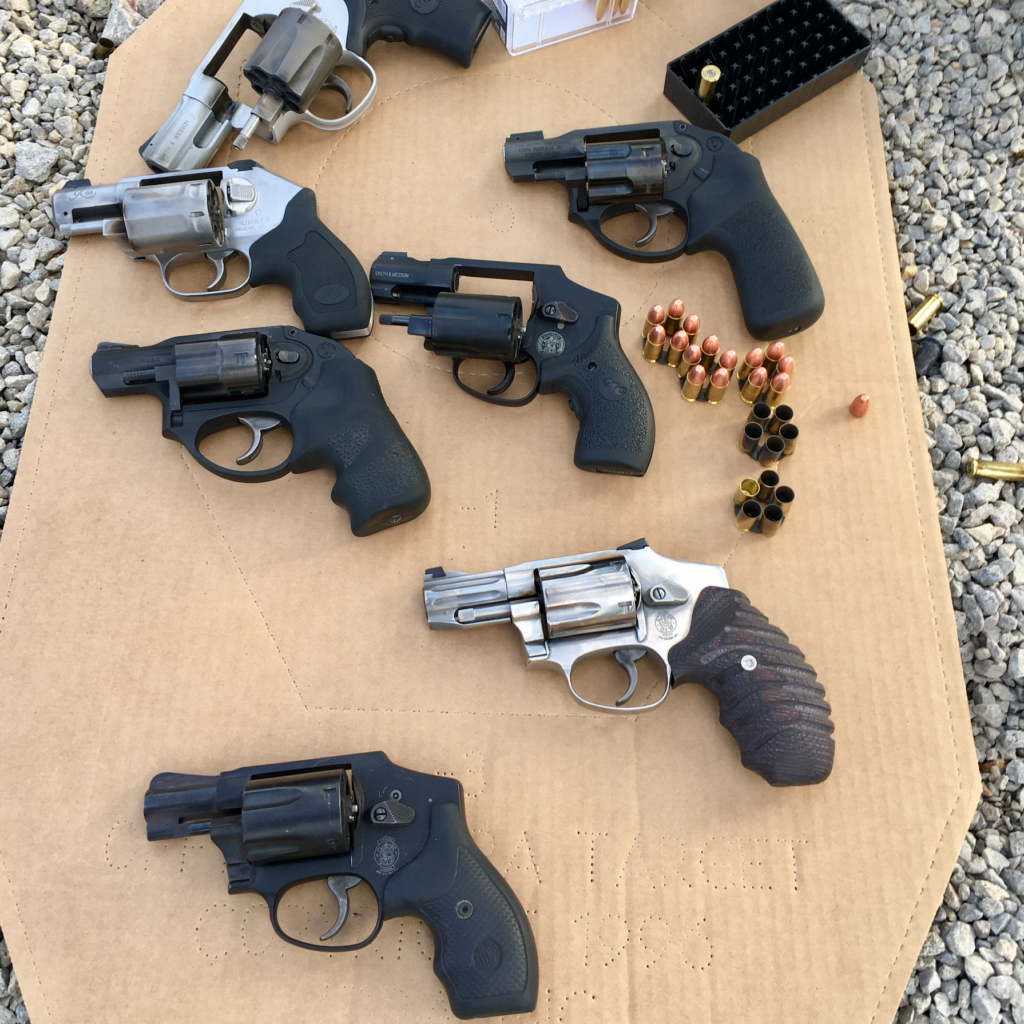 The end of the day was the most pure fun, and appealed to my inner revolver nerd: we go to pass around guns and shoot other people's stuff. I wasn't bashful: I shot Greg's .22 Magnum Model 351, both of the Ruger SP101s, and Neil's 9mm LCR. Also, Neil and I swapped our nearly-identical 640s just for fun (they felt pretty much exactly the same, as you'd expect). The weirdest gun I shot: Greg's S&W Model 242, an extremely rare, 7-shot, humpback, ultra-light (19 ounces) L-frame in .38 Special. This little oddball was only manufactured for one year (1999).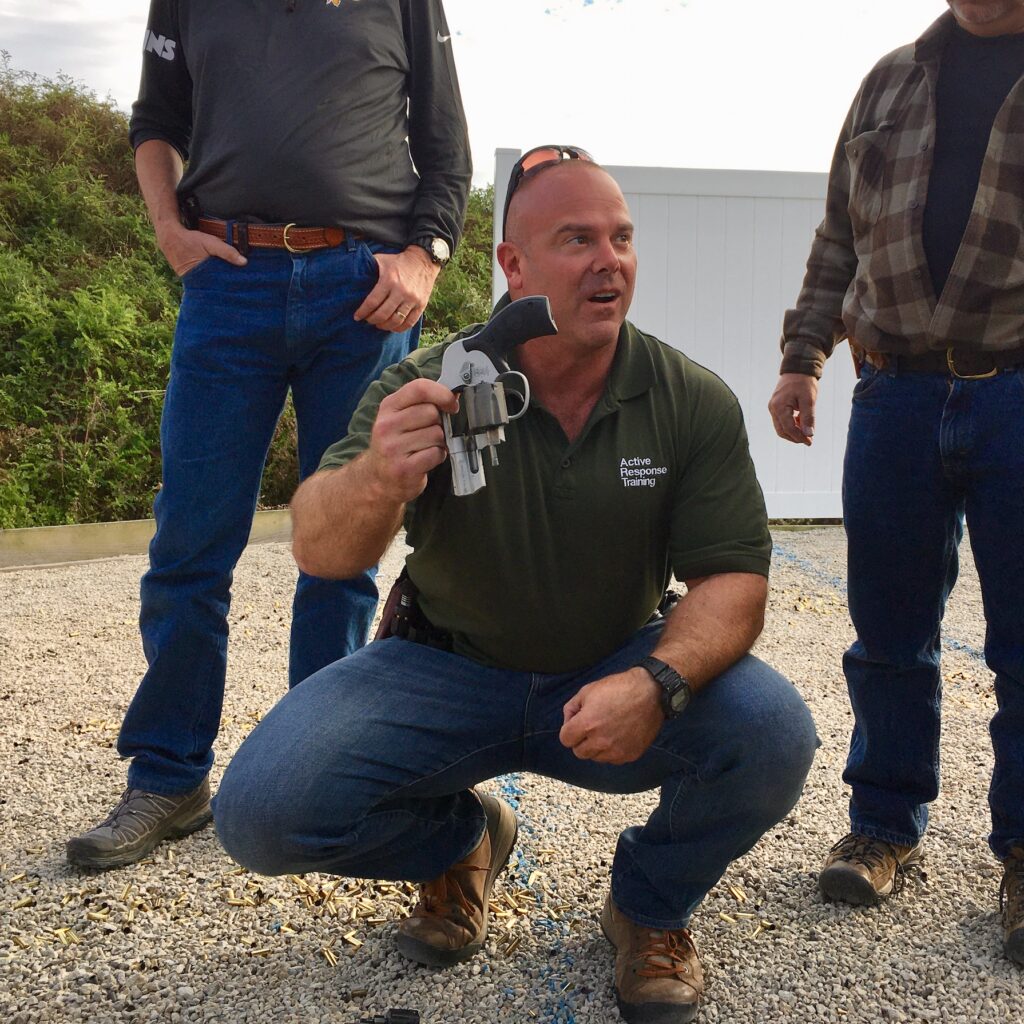 RevolverGuy Jim
I want to close out this AAR by talking about a fellow attendee named Jim. I hope he doesn't mind, though something tells me he wouldn't volunteer for the spotlight. I'm going to talk about him not only because I like him (I do), and not only because he was at the class (he was), but also because Jim is the antidote to last week's post bemoaning the failings of revolvers. Jim is quick with a smile, friendly, and kind of quiet. If I'm being honest, he's not the sort of guy you look at and think, "I wouldn't want to mess with that dude." But he's not the sort of dude you'd want to mess with, and I'll tell you why.
I met Jim last year at Chuck Haggard's Practical Revolvers, where he gave me a beautiful breakfront holster (thank you!). I don't know how much training Jim had before that, but he ran his GP100 very well and didn't need a ton of one-on-one from Chuck. Now, a little over a year later he's also showing up at Greg's class, a good eight hours away from his home. This time he's shooting the .38 LCR he normally carries, loaded up with wadcutters. This time he also showed up with the AIWB holster he had purchased and tried. It hadn't worked out for him, but I was impressed with him for trying it. Let's think about Jim for just a minute.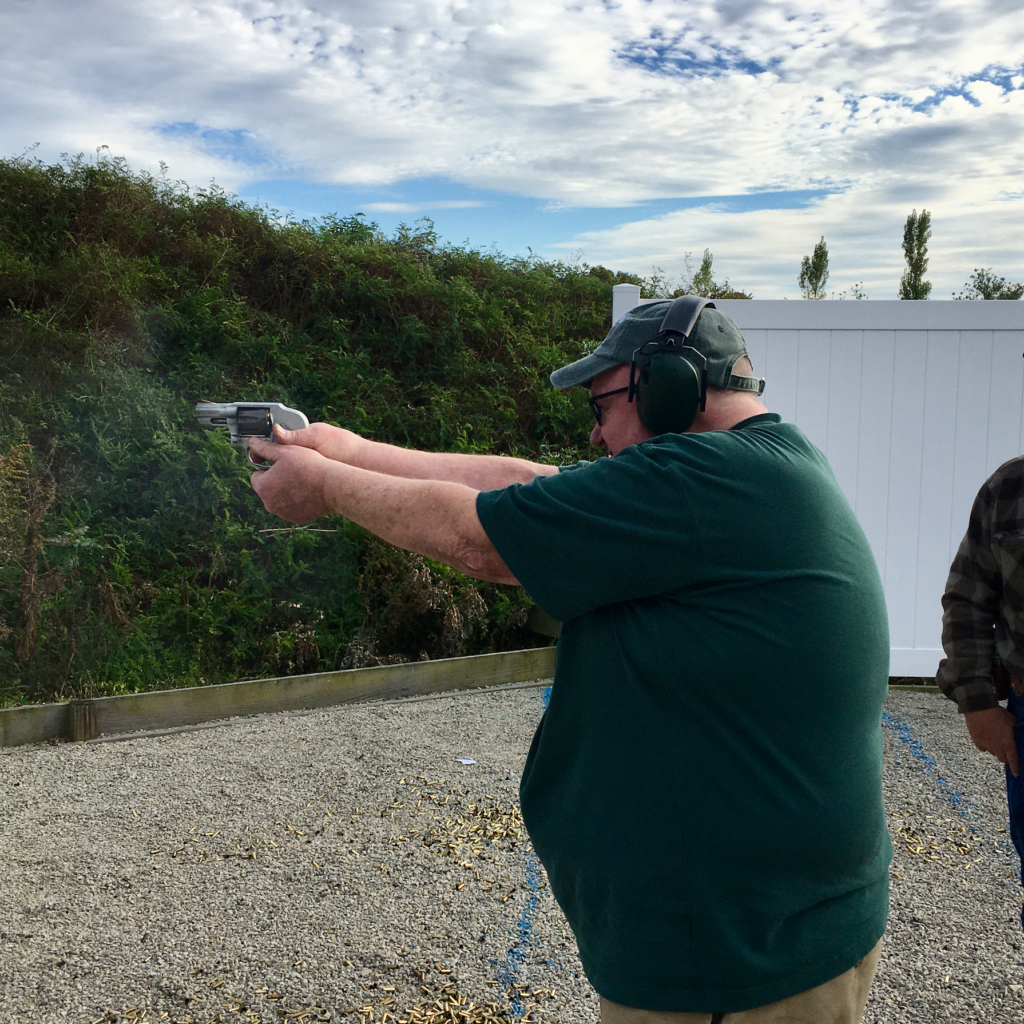 Here's a guy who has been to not one but two revolver training classes in the past year, both requiring over 6 hours of driving each way. He's spending a whole day in class shooting the lightweight .38 he actually carries. Instead of saying, "I've always carried OWB and I'll never carry appendix!" he's willing to try things out – even if they aren't what he's used to. If they don't work, he's honest enough to discard them and move on. And here's a guy that scores a perfect score on Ohio's Law Enforcement duty weapon qualification. With that .38 Special LCR. That's why you wouldn't want to mess with Jim.
The Bottom Line
Last week I talked about all the problems with revolvers. The willingness to get out to training, test your gear, modify the way you do things and practice, practice, practice is what makes the revolver a viable option. It's also what takes a "viable option" and transforms it into a force to be reckoned with. Guys like Jim – guys like a lot of you, and all the guys attending this class – are doing the work. If you want to neutralize most of the issues with revolvers? Simple: just do the work.
Greg's class was absolutely outstanding. I spoke to Greg about future revolver classes; he is about to release his 2020 schedule and at least two (maybe three) revolver classes should be on it (maybe he'll consider a two-day 'advanced' class in the future?). He has also indicated he'll keep teaching them as long as demand is there. My advice: register early and get to one. Greg is extremely knowledgeable and even if you're a seasoned RevolverGuy he probably has a thing or two to teach you.
---
Support RevolverGuy
First, THANK YOU to our Patrons – we couldn't do it without you guys! To the rest of you, please consider supporting us on Patreon – every little bit helps.